"Inspired by The Creator…motivated by design!"
Hart of New York is the name Angela Hart prefers to be known by when she exhibits her art because the name was formed when Angela and Peter Hart began working together from the very beginning, when they first fell in love.
 Hart of New York Profile
As an emotionalist / abstract expressionist influenced by fauvism and impressionism, my work includes people. I compose most of my art with acrylic and paper and repurpose/redesign/repaint images in compositions and dramatic color palettes that tell only parts of a story. I want the viewer to wonder about the people because of what they are feeling.
Sometimes I take a formalist approach ("Face in the Window") where I began with black and white lines for buildings, on a sunset-colored background, to create a twilight cityscape.  As I layered on my textural elements, the "buildings" soon presented an image to me, and the face I saw in the window had to find its own voice irrespective of what I had initially planned to say.
INTERPRETATION: I hope to evoke feelings about life's journey.  "River of Life" includes an image of water flowing through tree trunks that portrays an open hand, symbolizing that just as we cannot "hold" onto water, we cannot hold onto life. The more we "pour" ourselves into others, the higher and deeper our own lives will evolve.
Often my work is described as "ordered chaos."  "Not About the Butterflies" was created in stages – each frenetically lending itself to the end result. My approach was not about the butterflies: it was about using different textural elements to create an abstract design. What resulted — the movement and circular cadence –  similar to the dissimilarities between a caterpillar, a cocoon and a butterfly–  was indeed, order out of chaos.
In addition to being a prolific artist, I enjoy storytelling / blog writing and I co-produce local cable TV shows with my wonderful husband, Peter Hart.
"Angela has an unusual gift of operating from both the creative and executive sides of her brain equally and simultaneously. She can handle numerus multi-faceted projects, very effectively."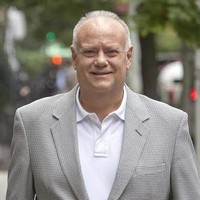 Reverend  Peter Hart is a television producer and TV host. The Hart of New York Show has been airing in all 5 NYC boroughs for over eight years.
Peter has an extensive background as a business consultant and negotiator in finance, real estate, and insurance. For over twenty years, he negotiated and closed complex commercial real estate transactions in the Rockefeller Plaza, Soho and Financial districts as a tenant representative.
Prior to real estate, Peter held a Senior Vice President's position with a Wall Street investment firm. He has served a very diverse client base, and experienced much success building and maintaining strong customer relationships throughout his career.
In addition to being a kind and loving husband, Peter serves as the general business manager for Hart of New York. 
"Peter enjoys using his gifts of encouragement and sense of humor to minister to the suffering alcoholic, and to reach out to touch lives in a meaningful way."